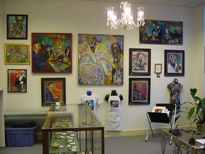 Cindy Alkire received her BFA from the University of Kansas, she also attended Alfred Univ., Alfred NY, and Wichita State Univ, Wichita KS. Her studio is located in Overland Park, KS. Her art is collected by both private and corporate patrons.

Cindy Quotes:
"While looking for a venue to create portraits, I was greatly influenced by Richard Wright, my former Professor of Music History at K.U. I feel that working from archival jazz & blues film and from my photographs shot in local KC clubs throughout the Metro area, gives me a spontaneous active surface."

"My painting results from a complex process of working and reworking. I create works in various sizes and media from standard to possibly 6X8 feet or larger. I work in a variety of grounds from paper to wood. Nothing holds more fascination than realistic and abstracted human, ethereal, floral and animal forms. All find expression in a variety of line, form, depth of space and light. Painting is a passion allowing me freedom of expression."